In Memory
Sharon Baize (Eppard)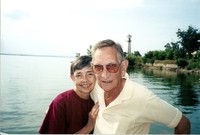 Deceased Classmate: Sharon Baize
Date Deceased: Sept.-12-2005
Age at Death: 63
Cause of Death:
Classmate City: Cross Plains
Classmate State: TX
Classmate Country: USA
Survived By: Husband, Bob Eppard; sister, Christy Baize Cave

My sister, Sharon Lou Baize Hunt Eppard, died at her home in Cross Plains, Texas, on September 12, 2005. She married Bob Eppard on June 2, 1963, in Corpus Christi, Texas. They managed apartments in Corpus Christi, Texas, and Denver, Colorado, also lived in Oklahoma, Galveston and Canyon Lake, Texas, before retiring to Cross Plains, Texas. Sharon was a loving step-mother to Mike, Larry, John, and Linda Eppard, and their families, numerous grandchildren, great-grandchildren, even great-great-grandchildren. Sharon also worked as a secretary at CPL in Corpus Christi, at UTMB in Galveston, and the UTSA Math Department in San Antonio, as well as other businesses in Oklahoma and Comal County, Texas. She was a gentle spirit, creative, and loving to all her family and friends. She struggled with the challenges of Bipolar Disorder before and after her diagnosis in 1981. I can be reached at cbcave@cvctx.com. Her husband Bob still resides in Cross Plains, Texas, where she is buried.